We maintain extensive data on virtually every shopping center, office and industrial building in Metro Phoenix. This enables us to track all available spaces and pads. We represent a number of desirable properties and have access to all other inventory in Metro Phoenix. This includes new projects under development and undeveloped pads.

NO COST TO TENANT
Our fees are paid by the landlords so there is no cost to you, the tenant.

IN DEPTH MARKET INFORMATION AVAILABLE
We combine our knowledge of the Arizona market with detailed trade area studies, rental rate & occupancy surveys and demographics.

NEGOTIATION SKILLS & EXPERIENCE
We combine years of experience with a successful track record.

OWNER & BROKER RELATIONSHIPS TO FACILITATE TRANSACTIONS
You benefit from the extensive network of contacts that we have created.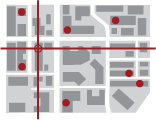 IDENTIFYING SITE OPTIONS & CREATING LEVERAGE TO NEGOTIATE BETTER RENTS
Our market knowledge helps yield more favorable outcomes in negotiations.

SAVE CLIENT TIME, FRUSTRATION & MONEY
We do the work so you can focus on your business.
Document Links:
Application for Tenancy & Credit Report Authorization
Financial Statement Form